Hands-On Yoga Assisting Course
Learn the Art of Hands-On Asana Assisting
Deepen your Personal Practice and Support Others in Theirs
Hands-on Yoga Assisting Course
The process of learning to assist yoga poses gives a profound understanding of alignment and how this relates to different body sizes, types and shapes.
Assisting for Non-Teachers of Yoga
Through learning yoga assisting, the nuances of alignment in poses will be revealed to you for you to apply to your own practice. You will discover your body's strengths and weaknesses, tensions and imbalances and how to work on these to bring a greater balance of strength and flexibility throughout your body.
If you go on to assist others, you will find a fulfilling way of contributing to their yoga practice, enhancing their class experience and supporting the teacher.
Assisting for Yoga Teachers
As a yoga teacher learning the art of assisting will exponentially develop your teaching skills.
The Assisting Course will not only increase your understanding of alignment, but also give you a new perspective on how to see your students, read their bodies and enhance their class experience. What you see will also give you material to speak to in your class.
You will become more sensitive to reading the limitations of people's practice, and discover how and where you can bring support. Through touch you will learn to give encouragement physically, mentally and emotionally to help your students gain confidence and find new depths in poses.
Practice Assisting in a Real Class
You will also be given the opportunity to practice your assisting at the Hot Power Yoga Studio, which will give you exposure to numerous students and unparalleled insight. This will give you confidence to give assists to students both on a one to one basis and in large classes.
Enhance and improve your yoga teaching skills and the quality of your yoga classes
Help your students deepen their experience of their yoga practice
Gain greater connection with your students
Develop and deepen your understanding of your personal yoga practice
Gain hands-on experience of assisting small groups within yoga classes at the studio during the workshop
Have the opportunity to practice your skills and give assists in larger Hot Power Yoga classes under the guidance of a facilitator after your course
To find out more email or call 07872 122 842
Assisting Course Content
Over 3 days, this interactive and experiential course will provide you with concrete skills for safe, effective hands-on yoga assisting.
Key principles for being giving powerful assists
Postural anatomy and alignment
Safe and effective hands-on asana assisting and techniques
Non-verbal communication in the context of yoga assisting
The energetics of yoga assisting
How to create a shift in a student's experience of a yoga class or posture
To find out more email or call 07872 122 842.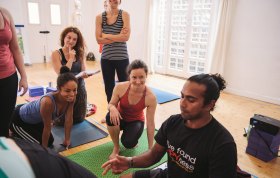 Lead Facilitator
Dylan Ayaloo
Prior to founding Hot Power Yoga, Dylan supported numerous Baptiste Teacher Trainings globally, learning and giving World Class yoga assisting techniques.


He has also trained in Forrest Yoga which is renowned for it's effective assists.

Dylan has assisted literally thousands of bodies, and as a trainer of teachers, has a deep passion and belief in the benefits of yoga asana assisting. This is in terms of developing the teachers observation skills and sensitivity, as well as deepening their connection and communication with students.