Weight training shortens muscles through the ongoing repetition of short range movements along a single plane. The result can be a limitation of the body's overall range of movement, stiffness, tightness and even joint problems.
A Hot Power Yoga class will not only give you a full body stretch, but the heat allows you to get deeper into your stretches sooner, making your stretching more productive and beneficial.
With Hot Power Yoga you'll find your body opens and your range of improvement and flexibility increases. Recovery is also assisted as blood flow brings oxygen and nutrients deep into the muscles, and toxins are removed.
With increased flexibility comes a reduced risk of injury, so you become less likely to lose valuable training time.
But that's not all: no matter how beautiful your body it's no defense from the stresses and strains of modern life. Hot Power Yoga can also bring you to a completely relaxed state, where your muscles let go of tension and your mind finds peace.
Experience the benefits of Hot Power Yoga in support of your weight training with our 30 days for £40 unlimited intro offer.

30 days for just £40
Save £100 when you sign up for your Introductory 30 days for £40 pass, and try as many yoga classes as you like in our Clapham Common Yoga studio.

> Find Out More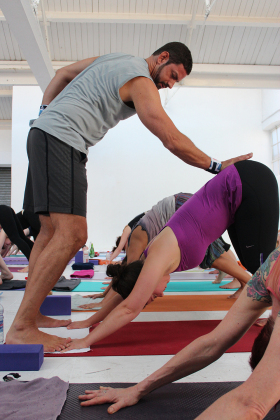 Alex - rockin Hot Power Yoga teacher and knows his way around the free weights
If you have any health issues or concerns we advise that you seek medical advice before practicing at Hot Power Yoga. All students enter a Hot Power Yoga class entirely at his/her own risk. Hot Power Yoga cannot accept responsibility for any injury, loss or damage sustained as a consequence of an existing health condition or physical limitation. Students are responsible for monitoring his/her own physical condition throughout a class. In the event of any unusual symptoms occurring, the student should inform the class teacher immediately and seek medical advice.