Priya Nath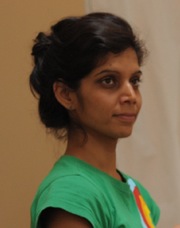 Priya discovered Hot Power Yoga when she was looking for a way to relieve the strain on her body caused by running. What most surprised her about her first HPY yoga class was just how physically challenging yoga could be. This challenge proved addictive and the beginning of a new passion for Priya.
Within weeks of her first practice she had signed up to the 40 Day Program, where she learned more about the benefits that yoga can bring to both the body and mind.
Coming from New Zealand, Priya loved the warmth and diversity of the HPY studio. Even after moving out of London for work she stayed connected to the studio and chose to come back here to train as a teacher.
She is really excited about sharing Hot Power Yoga's transformational power and teaching her own strong, challenging and invigorating classes that leave students feeling alive and ready for all the strains and stresses of modern life.