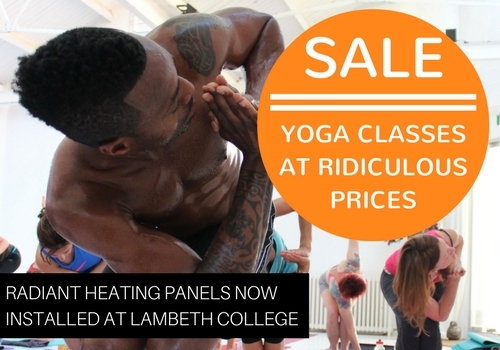 Is the New Year already taking it's toll despite your best intentions?

Did you start the year with energy but the spring in your step has gone?

Maybe you need some space to focus on the "new you" you intended to be this year.

Reclaim your energy and your intentions, stretch away your stresses and roar out your frustrations by grabbing yourself some crazy-priced yoga classes.

Sale Ends 31/01/2017


5 Reasons to Come Back to HPY


- Our radiant heaters have been installed at Lambeth for a warmer room and more consistent heat

- Our 9.30am 90 minute Saturday class is back on the schedule. This session reaches the parts other yoga classes don't!

- We offer high quality heated yoga but at prices well below other studios

- Our sequence is specifically designed to work through the layers of your body and target areas of tension caused by our 21st Century lifestyles - like back and neck tension and shortened hip flexors caused by hours of sitting at a desk

- We're the friendliest, most unpretentious bunch of people you could hope to meet and we genuinely care about your health and progression




UNLIMITED YOGA CLASSES


30 DAYS UNLIMITED YOGA FOR £45


SAVE £44

2 classes per week = £5.25 per class
3 classes per week = £3.50 per class
4 classes per week = £2.63 per class


---

60 DAYS UNLIMITED YOGA FOR £85

SAVE £93

2 classes per week = £4.96 per class
3 classes per week = £3.31 per class
4 classes per week = £2.48 per class





Terms:
OFFER EXPIRES 31/01/17
30 / 60 days starts on date of purchase
Mat and towel not included




CLASS PASSES


1 class per week with wriggle room



Just £9.90 per class

3 months duration



---




20 CLASSES FOR £169



Just £8.45 per class

4 months duration

Terms:
OFFERS EXPIRE 31/01/17
Multiple passes can be purchased
Mat and towel not included


Beginners Workshop
With Dylan Ayaloo



Wondering whether you're getting it right?


Discover how poses 'should' feel in your body and how to adapt them to your body shape, or level of flexibility and strength.

Learn the most important principles to apply throughout your yoga practice to grow it fast.

If you have injuries, learn how to work around them and build the strength to support them.

Ask all the questions that have been puzzling you and get individual input.

If you're more experienced, this workshop is a great return to the core principles of a strong yoga practice, and will highlight any bad habits or missing links in your practice.

Saturday 25th February, 1.30 - 4.00pm
Cove at Plough Studios
9 Park Hill, London SW4 9NS
8 mins walk from Clapham Common Tube
£25

Sale Price £20
Offer expires 31/01/17