HPY Home

> Workshops > New Year New You
New Year, New You Workshop
With Dylan Ayaloo

Sunday 11th January, 2.30-5pm

Manifest the year of your dreams
Your life is too valuable to settle for less than you want.
Everyone needs progress, change and growth in their lives. Without it you can feel stuck, dissatisfied and unfulfilled.
Make 2015 the year you make your dreams a reality.
This workshop is for you if:
- You're trying to figure out what you really want
- Life, or you, is somehow getting in the way of you achieving what you want
- You don't know how to start going about getting what you want
- You want to make changes but don't know where to start
Make your dreams a reality
This workshop will help open your eyes to the opportunities that are around you and the capabilities you have within.
It will also help you assess where you are, clarify what it is you want and focus your mind on achieving this by envisioning a compelling future.
You will be taken through processes to help you create the year you want, combining the spiritual practices of intending and manifestation with a practical action plan.
Leave this workshop energised and excited to dive into the year ahead of you.
Workshop includes:
The workshop will create a dedicated time and space for you to focus on what you want from your life and will include:
Short practice - to clear energy and connect to your intuition
Exercises to help you assess where you are and decide what you want
Visualisation and meditation exercises to cement your intentions and start manifesting your dreams
Remember: Bring your yoga kit and journal / something to write on.
"It was great to dedicate the time to plan and intend my year.
I would never have done this on my own. Thank you HPY!" - Annabel S
"I feel so positive about the year ahead and have a real sense of purpose" - Mark B
"I never keep my resolutions. I did the workshop last year and somehow I stayed on track! Thank you" - Sandrine L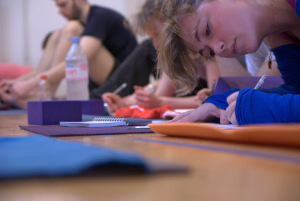 Dedicated time, space and tools to create the year you want
"For 2 years I have set intentions at the New Year, New You Workshop.
Everything and more has happened" - Craig
Decide what you really want from your life
Create your vision for 2014
Visualise your dream life and cement your intentions