Hot Power Yoga's Founder Dylan Ayaloo trained in Taekwondo to Olympic Squad level, so it's safe to say we have a pretty good understanding of how yoga can support your martial arts or boxing training.
It's also a more dynamic and athletic style of yoga so you're likely to find it has a better fit to your nature and personality.
Starting with the physical aspects, other than gymnastics, martial arts of all types probably have the greatest requirement for a flexible body of any sport. High kicks, spinning kicks, slipping and shifting position when grappling or in a hold require considerable flexibility throughout the whole body.
A Hot Power Yoga class will take you through a full body stretch. What's more, because we practice in heat, you can get deeper into your stretches sooner which accelerates your gains in flexibility. We also give a lot of focus to the back and hips, which means that with gains in your flexibility, comes a greater fluidity of movement which helps with the speed and power of your kicks and punches.
Your martial arts training will also benefit from the strengthening aspects of Hot Power Yoga, which again work on the whole body including the smaller tendons and ligaments that are essential in the finer movements of a close combat situation.
Through Hot Power Yoga's sequence you will also practice balance and grounding poses that will be of benefit for times when you need a solid stance, even when you're on one leg.
And there are huge psychological benefits too, which will apply both to your martial arts or boxing, and your life in general. Yoga helps with finding focus, detachment, clarity and presence which promotes a sense of calmness and self-control, even in the adrenaline fueled intensity of a fight.
Try Hot Power Yoga on our 30 days for £40 unlimited offer and see what a difference it can make to your martial arts or boxing performance.

30 days for just £40
Sign up for your Introductory 30 days for just £40 pass and you can try as many yoga classes as you like in our Clapham Common Yoga studio.

> Find Out More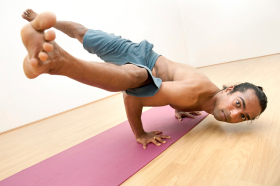 Founder of Hot Power Yoga: Dylan Ayaloo - Malaysian Junior National Champion and Olympic Squad athlete in Tae Kwondo.
If you have any health issues or concerns we advise that you seek medical advice before practicing at Hot Power Yoga. All students enter a Hot Power Yoga class entirely at his/her own risk. Hot Power Yoga cannot accept responsibility for any injury, loss or damage sustained as a consequence of an existing health condition or physical limitation. Students are responsible for monitoring his/her own physical condition throughout a class. In the event of any unusual symptoms occurring, the student should inform the class teacher immediately and seek medical advice.