Unlock your True Potential
Hello and welcome to Hot Power Yoga Teacher Training Programs, with me - Dylan Ayaloo.
Teaching yoga is amazing and fulfilling and a yoga teacher training programme should - I believe - be a profoundly life-changing experience.
To help you on your journey I'd like to give you 2 gifts.
Claim your free gifts:
(1) Hot Power Yoga class MP3 taught by me
If you can't make it to our Clapham studio, try a class at home and see if you like the Hot Power Yoga style of yoga.
(2) Your Guide on How to Choose the Right Teacher Training Course for you
This guide could save you thousands of pounds and make sure you don't waste your time doing the wrong course! It includes all the things you need to consider including a 10 point checklist on how to assess a teacher training school.
So why am I giving you this guide rather than just promoting the HPY programme?
Well, my view is that teacher training is like a relationship – it doesn't work for either side if we don't get along, so you need to know how to judge the right school for you. It also doesn't work if you don't know what you're looking for and why you want it.
And, if you're going to be a powerful teacher, you should set your standards high from the beginning and be selective about who you train with.
So you're interested in teaching yoga
Teaching yoga is hugely rewarding. As a powerful yoga teacher you will be hugely influential in people's lives. Not only will you see people change physically but you will also witness the signs of tension, stress and distress melt away from them. It's an amazing gift!
Hot Power Yoga Teacher Training Programmes are for you if:
You want to develop your personal practice
You want to grow as an individual
You want to realize your inner power
You want to have a positive impact on people and the world
You want to live a more fulfilled life
You're prepared to be challenged and have fun
You want to be part of a community that will support your growth
Our programmes are not for you if:
You just want to learn cool poses
You're not interested in growing
You deserve to realise your potential. We can help.
We offer a series of Programmes to support you on your journey.
Foundations of Teacher Training – A 3 day introductory Programme to immerse you in yoga and yogic practices. If you're not 100% sure you want to progress to a full 200Hr programme, or you want to try us out before you commit, this is the programme for you.

200Hr – Accredited by Yoga Alliance International, graduates will be qualified to teach in studios, health clubs and privately world-wide. All 200 hours are contact hours (we don't include homework or book-reading time in your fee), and if you do the Foundation Course first, we'll deduct £150 off your 200Hr Porgramme fee.

Vinyasa Conversion Course - for existing 200Hr graduates of any style or school who either want to gain confidence in their teaching, reinvigorate their passion for teaching or qualify in the Power Vinyasa style. It's also the gateway to the Mentorship Programme for teachers who haven't done their 200Hr Programme with Hot Power Yoga.

Mentorship – Like driving a car, you don't really start to drive and become proficient until after you've passed your test. Teaching yoga is the same, so this Programme is designed to support you and continue your growth in your first year as a qualified teacher.

Assisting Program – For qualified teachers this Programme is essential in understanding the human body, the challenges students face in class, and how you can enhance their experience. It's also amazing for students who want to gain a greater understanding of alignment and their personal practice.

What our students say:
"It's not just about knowledge and teaching, it's about life. The way I look at my life is completely different." - Mami
"This is my third yoga teacher training and I was blown away... If you are looking to be an authentic Power Yoga teacher and have the tools to transform many lives then this is the training for you" - Jason
"Whatever you can do to make the time, do it. It will change your life" – Rio
"It was such an amazing experience. I'd do it again in a heartbeat… Mind blowing and amazing" – Heidi
"A life-changing experience… the first step in my new life. I'm a much happier person than I used to be." – Eva
"Challenging. Inspirational. Freeing" – Anne-Marie
"To be completely honest the training was one of the best things I've ever done in my life. It has opened my mind and heart and I feel empowered by the experience." - Katie
"This program had everything I had expected and more... A lot of the mystery surrounding yoga and teaching was delivered perfectly and very much in the style of the life we live in now and letting us see it for ourselves from our own experience of life" - Maria
"A huge experience, a chance to change and grow. My heart is bigger, my core is stronger!!! I love HPY Dylan's tribe!" - Marianna
Dylan Ayaloo explaining the details of alignment
Posture Workshop in 200Hr Teacher Training Program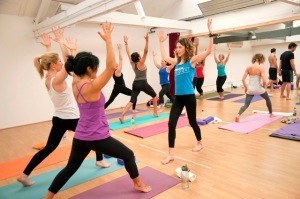 Practice teaching in small groups from day 1
Dylan Ayaloo illustrating principles of alignment on
Co-Facilitator Craig Norris