What to expect from a Clapham Hot Power Yoga class

If you want a full body workout that will increase your flexibility, strength and tone, as well as leaving you de-stressed and re-energised, then Hot Power Yoga in Clapham is for you.
The Style:
Hot Power Yoga classes are in the Vinyasa-flow style of yoga. Vinyasa means breath-synchronized movement, and the flow describes the way you will move fluidly from one yoga pose to another in rhythm with your breath.
Your teacher will take you through a flowing series of yoga poses and guide you on when to inhale and exhale. Unlike Ashtanga or Bikram yoga, you won't follow a set routine of poses. Although our classes follow a specific structure, the teacher will modify each class to the needs of the students and bring variation and playfulness so that each class experience is different.
We also encourage modifications to suit your level, so you can rest or challenge yourself depending on what your body needs.
The Power:
The power in Hot Power Yoga comes from the vigorousness and fitness-based aspects of the yoga practice. The level of intensity can also be influenced by the speed of the class and length of the hold in any given pose.
This makes our classes more dynamic and gives them an athleticism that means you get a great workout, regardless of your level of fitness and strength.
The practice increases cardiovascular activity and fat burning while also developing dynamic flexibility, muscular strength and agility.
The Heat:
Our Clapham yoga studio is heated to between 28 and 32C – hot enough that you will work up a sweat, but not so hot that it's uncomfortable to flow between poses.
The heat not only encourages you to detoxify through sweating but it also warms your muscles meaning you get into your yoga stretches more quickly and deeply – increasing the effectiveness of your session and lessening your chances of injury.
The Philosophy:
The Hot Power Yoga philosophy is that you leave each class with a feeling we call HPYness... and it's a pretty good feeling!
We strive to create a friendly, all-inclusive space where everyone is accepted for who they are and where individual experience is encouraged. We appreciate that everyone's body, and therefore poses, are unique so we won't try to force you into positions your body can't possibly get in to.
We don't take ourselves too seriously and hope you'll have some fun with us too.
Enduring HPYness:
By helping you focus on your body and the yoga poses, we help you get out of the busyness of your head. This leaves you feeling mentally and physically de-stressed, and with a new level of self-awareness. Over time you'll also find that the breathing techniques and tools you discover on your mat, transfer to your daily life off it.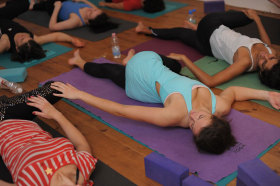 A spine twist with a helping hand


Our teachers will assist you