Dylan Ayaloo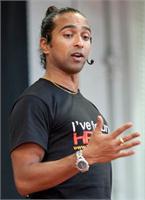 Dylan was a former Olympic athlete in Tae Kwon Do and came into yoga with injuries from his sport. He found yoga in 2001 and has practiced various styles of yoga over the years.

In 2006 he found Power Yoga in Sydney, experienced its transformational power in his life and fell in love with this style. After completing the 40 Days to Personal Revolution Program, he went on to complete his teacher training with the amazingly inspiring Duncan Peak of Power Living Australia.

In 2008, Dylan completed his Level 1 & Level 2 Teacher Training with world known master Baron Baptiste. Straight after he was invited by Baron Baptiste to travel the world and assist at Baron's teacher training programs around the globe. Since then Dylan has assisted in over 2000 hours of intensive training with Baron Baptiste around the globe.

Dylan has rapidly become one of London's leading yoga teachers, he presents yearly the London Yoga Show, the Vitality Show, teaches at leading studios in London and is the founding director of Hot Power Yoga.

His classes will challenge you to your growing edge, bring you transformation on the mat, an ease and calm to walk through the challenges of your day.
Dylan Ayaloo instructs the following:
Join the Founder of HPY and the trainer of all our teachers - Dylan Ayaloo - for a 2 hours Masterclass. This class will take you on a yoga journey that will move energy, build strength, increase your flexibility, and most probably make you forget your name ; )

Dylan's classes are always both fun and challenging and will leave you feeling more free in your body and empowered in your life.




2nd Weekend Intensive







Week 2 - 2nd 9 Day Intensive