All levels Hot Power Yoga

90mins
The 90 minute Hot Power Yoga All Levels class is our dynamic signature class, which provides a balance of strength and flexibility work, that will leave you feeling transformed!
All levels classes are carried out at a faster speed to maximize the cardiovascular benefits, and poses will be held from anywhere between one breath to a minute or more.

You will be encouraged to tune into your body and to rest when you need to. Alternative adjustments and poses will also be suggested for more advanced students to challenge themselves and grow their practice.
Overall, these classes offer a balance of flow, energy, strength, intensity and compassion, and you will leave this class with a lightness, renewed-energy and enthusiasm life.
Oh, and you really will sweat!

60 & 75 mins

These Hot Power Yoga classes shares the intensity, challenge and energy of our 90 minute signature class, but with a reduced number of poses.
Consider these yoga classes a quick healthy dose of yoga to breathe and work out the stresses and tensions of the day, and set you up revitalized, and with a clear mind.
120 mins

Our 120 minute Hot Power Yoga class builds upon our signature 90 minute class with the addition of other yogic practices such as pranayama (breath work), a guided meditation or Yoga Nidra (Yogic sleep).
Consider this a total indulgence for your mind and body that will leave you feeling incredible.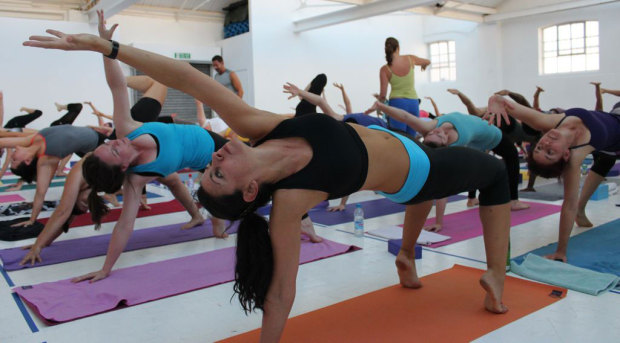 Flipping over in 'all-levels' classes
Wringing out with a twist at Hot Power Yoga